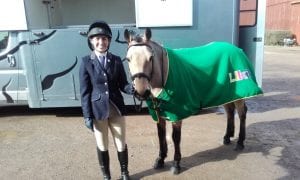 At the beginning of March we attended a British Dressage competition at Merrist Wood. We took part in two classes. Prince went really well, achieving 65.192% and then 63.654% to come 3rd in both classes! In between the two classes Prince was rewarded with some mint and eucalyptus Likit Snaks.
The following weekend we were booked in for a show jumping lesson with our riding club. Within this session we worked on keeping Prince forward without going too flat, by the end he was jumping superbly, even if we were a bit soggy from the wind and rain.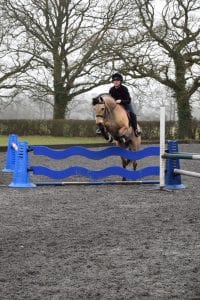 Unfortunately, I injured my finger which meant I spent the rest of the month with them taped together. However, this did not stop me from taking Prince to his first cross country of the year. We went to a newly opened course; the ground was perfect and there was a wide range of combinations. Let's just say Prince rather enjoyed himself a little too much! He was very keen pulling me into all the fences and making them feel easy.
Finally, our first event of the season arrived! We went to Munstead to take part in the BE80, as a leg stretch for Prince. Thankfully, it was the second class of the day, which meant we didn't have an early start. We produced a 33.5 dressage followed by a super double clear inside the time to come 7th! Whilst we were competing, we met up with Princes old owners, who were very pleased to see him after 5 years!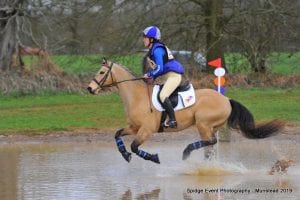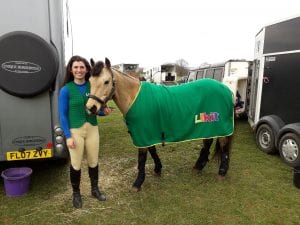 The next day, we were volunteering at Munstead Horse Trials, we were dressage stewarding a section, in which we met the likes of Kristina Cook and Pippa Funnel. It was great to see these two riders working in their horses.
Until next month, Sophie and Prince.
Keep up to date with us on our social media: https://www.instagram.com/sz_eventing/