Hi everyone,
My name is Lucie Wackerbarth!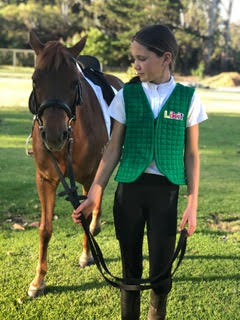 I am 12 years old and own two ponies, Gary and Cindy.
Gary is a 2 year old gelding minute pony. He is only 8hh and is white and quite cute but very cheeky! Garys favourite things to do is free jumping, trick training and most of all, eating lots of likits and playing with his toys!
Cindy is a 12.2hh, 9 year old Arabian riding pony. Cindy is a chestnut mare and she can be very moody at times, but mostly she is amazing. Cindys favourite thing to do, besides eating likits and playing with her toys, is jumping. She also loves competing and going to the beach!
The disciplines I compete in are show jumping and hacking.
I first became interested in horse riding when I was 6. We were in Germany for 7 months visiting my dads side of the family. At the time, my sister was horse riding but that didn't get my attention until I met Susie, the first pony I rode. I started riding her almost every day and was enjoying it more and more every time. When we got back to Australia I started riding at a friend of my mums until I got my first pony, Casper.
I took a break on showing this year from doing monthly shows but I still did some. I don't really have a 'great' achievement in my chosen discipline showjumping just yet because we are still working our way up to the bigger shows. Although my biggest achievement so far is placing 2nd in all my events at the Busselton show. But I cant wait for the new year where I will be competing every month!
In 2019 I really hope to be competing 1m with Cindy. I also want to have done so much more with Cindy before I sell her. For Gary, I want to have him trained and ready to start harder tricks and more tricky free jumping exercises. It is a challenge but I think we can do it!
Its hard to choose my favourite likit toy because they help with everything but the one that just makes it is the Tongue Twister. I like this one the most because it keeps Gary busy for everything. From standing while I put on rugs to even stopping him digging holes at night, it fixes it all. But the ponies love them all! All the flavours are equally my favourite! They are all to good to choose from.
If I could spend a day with any professional equestrian I would spend it with Edwina Tops-Alexander. I choose her because she is an inspiring rider to all up and coming show jumpers and even beginner riders as she represents Australia in the Olympics for show jumping. Also if I was to meet her, she could give me lots of tips to help me learn.