May has most definitely been a month of 1st's! We kick started the month with the annual trip to Badminton Horse Trials for cross country day. I always find it so inspiring to watch all the top riders go round, and it definitely got me excited for my event season to start! I also arranged my first proper 'meet and greet' for some of my lovely followers from Instagram and YouTube to come and say hi, and much to my astonishment over 150 people turned up! It was awesome to meet everyone and it made me realise how lucky I am to have such kind and supportive followers. I vlogged the day as well – here's the link to the video:
Our first competition of the month happened a week later at a Pony Club Team Showjumping, where I did my first 1m. Prince was rather excited to be out showjumping again on grass and wanted to look at everything! His over exuberance combined with me riding with the hand brake on resulted in a slight miscommunication in the 90cm, so we had a pole. After I gave myself a talking to, I rode him forward more in the second round and he did a nice clear, being the second fastest out of over 30 people, and helped the team to 2nd! As we approached the metre class, I started feeling nervous, but the awesome Prince had my back to jump both rounds of a decent 1m course, ending on 4 faults in each round due to me burying him in the bottom of the fence – still learning to see that stride. It was great to find out that yet again the team had placed 2nd! I really love team events as it's so nice to enjoy the experience with friends and cheer each other on. It also really felt like I had a breakthrough with my riding as well. Showjumping most definitely isn't my strong point and is something I want to work on this year, and Prince is doing a great job of helping me so far!
By far the most exciting event of the month was Poplar Park BE90, mine and Prince's first BE together and my first ever BE90! We were first to go in our section which meant a 4.30am start, not that I would have got much sleep anyways, I was far too excited! Our dressage wasn't our best by a long way; a combination of the hard ground, nerves and early start resulted in a rather slow and unbalanced test for 35. Still, he produced some lovely transitions, which shows the work we have put into them is paying off! Definitely lots more to come and to work on, but I'm really excited to see what he can do with a bit more practice under our belt. Then for the best part, the jumping phases! Prince was so happy to be out eventing and stormed round for a double clear inside the time, finishing us 8th in a hot section! It was the best I had felt him jump in a long time. I was and still am completely over the moon, we had only been a partnership for 2 months at that time!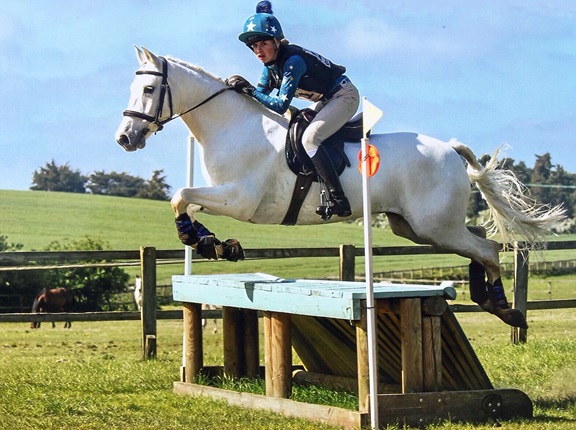 As for little Dan, he is having some time off recovering from a ligament injury. He's thoroughly enjoying the attention, and we can tell he is feeling better as his cheeky side is coming through again…
We will give him all the rest he needs to recover, he is so precious to us and after his amazing season last year he deserves to just enjoy being a pony (even if it does mean he is constantly bay from all the rolling, it seems he thinks now he is having a break from being ridden he should devote his time to trying to change his identity…) Can't wait to have some fun with my little pocket rocket – I am sure he will take great delight in telling me he is the 'main man' and will not be upstaged by the new boy!
So with school and exams almost over and a summer full of eventing, training and spending time with my ponies in sight, I can't wait to get to know Prince even more and see what we can do together. He's a really special pony, it may have taken us a while, but I think we've finally found a Danny pt 2, just without the sassiness!